Excursion to HTT Hochspannungstechnik und Transformatorbau GmbH
created on 28.02.2018
---
On 31.01.2018 company HTT had invited the VDE-Bezirksverein Kassel e.V. for a visit of their factory which a total of 22 members of the VDE did not want to miss.
After the greeting by the company founder Mr. Joachim Dunkel and his coloured and exciting review on the company history and the development in the area of the transformers, a round trip through the production followed in two groups.
On this occasion, a lot of interesting questions were raised by the visitors and answered by the employees of the company HTT.
At the end of the excursion the members of the VDE could not only strengthen themselves for the return journey at the buffet, but also discuss in smaller groups further questions and have small talk.
Then about 21:00 o'clock the event ended very successfully – given a lot of pleasure not only to the visitors, but also to the employees of the company HTT.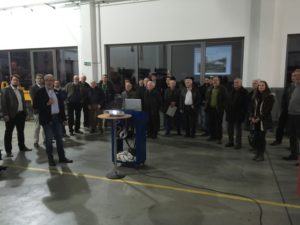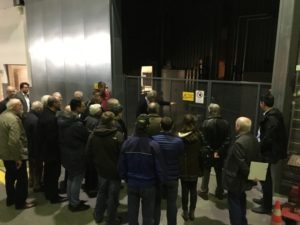 greetings in the shipping department in front of the HTT-test facility